When it comes to choosing a wash bay system to meet your fleet's needs, trust Easy Kleen's Buffalo Series to provide the results and washing experience you expect. Industries such as trucking, construction, agriculture, municipalities etc. all come with owning a hard-working fleet that needs to be maintained properly to keep a business running efficiently.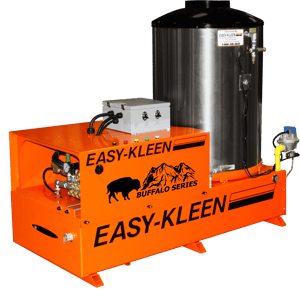 Keeping your equipment clean and in good working order can be time-consuming, which is why investing in an on-site, piped in system is a necessary part of your operation to invest in. With many years of designing, manufacturing, and installing wash bay systems, rest assured Easy Kleen can provide your business with a tailored system for your application.
IT ALL STARTS WITH THE RIGHT COMPONENTS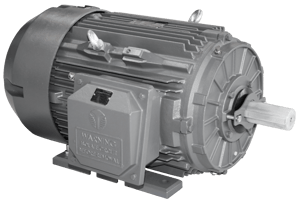 Our Buffalo Series has a large variety of specs ranging from 2 GPM- 12 GPM and 1500 PSI - 8000 PSI. It features top of the line heavy-duty components, starting with a totally enclosed fan cooled, full frame, 1750 RPM electric motor. Single phase equipped with a 1.15 service factor, 3 phase equipped with a 1.25 service factor.
The pump is an industrial, Italian made pump, built by the largest pump manufacturer in the world, General Pump. It is typically driven by a belt drive system, with large diameter pulleys to reduce belt wear. Flange and coupling drive systems are available to those who do not prefer belt drives.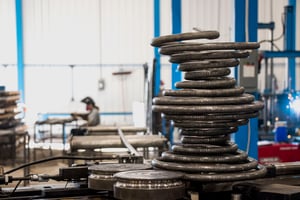 Easy Kleen proudly manufactures all coils in-house in our state of the art coil manufacturing facility with schedule 80 or 160 pipe. The coil is structurally braced to minimize pipe wear and vibration. Finished off with a ceramic blanket and stainless steel housing. Our burners are a quality North American made natural gas or propane fired burner with adjustable thermostats and controls for ultimate efficiency.
Our Buffalo Series frame is a rugged 11 gauge and 1/4" bent one piece bent steel frame. As always, fully welded and powder coated in house.
We are continuously improving our processes to keep up with technology to ensure the Easy Kleen machine you purchase will not only serve your business now but as your business grows in the future. "You are going to own this machine for a long time." says Brad Howland (President) below in this install video at the department of transportation. He delivered this machine when he was 23 years old and it was just replaced in 2017. "I'm 52 now" he says you do the math. 29 years of service!
INNOVATION - A CLASS ABOVE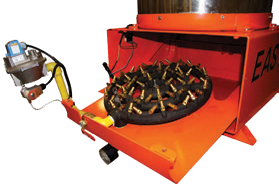 Why buy Easy Kleen? We have come up with several innovative features to make using and maintaining these units Easy! If it isn't EASY it will not get done in the field.
All starting with our Quick Kleen Burner System. Quick and easy maintenance is what the quick clean burner system is all about. Remove six threaded bolts and disconnect your wiring harness and your burner will slide out for its scheduled cleaning with ease. We recommend cleaning your burner orifices every six months to ensure your machine is running at maximum efficiency.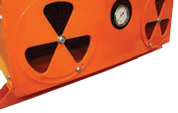 Our Quick Adjust Air Flow Vents allow you to adjust the amount of air that is flowing into the burner chamber. This adjustment allows you to maximize the efficiency of the burner by fine-tuning the CO levels to optimize emission levels for whatever altitude your system may be at.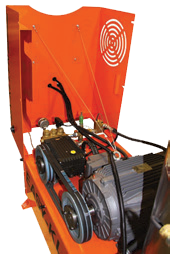 The Tip Ahead Shroud allows easy access to all your major components in seconds by simply loosening T-Nuts on both sides of the unit and pulling the shroud forward. The belt guard is integrated into the design of the shroud to provide maximum serviceability and safety. When servicing these machines if it's not easy to put safety features back in place they are usually left off.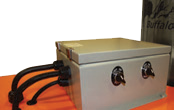 Finally, the unit is finished off with an electrical NEMA 4 watertight control panel available with standard ON/OFF switch or optional Auto Stop/Start timer shutdown. There are no unnecessary electrical components used within these boxes.
STILL NOT CONVINCED?
Hewitt Rentals (CAT Rentals) in Moncton New Brunswick are the proud owners of an Easy Kleen Buffalo Series, Belt Driven 4 GPM @ 3000 PSI Cleaning System. Hewitt Rentals uses their Pressure Washer for cleaning rental equipment on a daily basis.
"When you hit that trigger with this machine you get your hot water right away and degreasser if you want it. With other machines we've had in the past you either only had hot water, no degreasser, or it always seemed to take more time to get the job done compared to this that its instant, get what you want when you need it." - Hewitt Rentals (CAT Rentals)
WHAT WE NEED FROM YOU:
When you've decided to purchase an Easy Kleen, ensure you speak to your sales rep about the amount of equipment you have and how much/how long you will be washing for on a daily/weekly basis. We want to set you up with a machine that will provide you the power you need now and as your business grows.
Our Buffalo Series is either Natural Gas or Propane fired. You may already have one of these resources readily available at your site. Determine what will work the best and easiest for installation and use.
Consider adding our Auto Stop/Start feature to your system, especially if you will have multiple users.With this feature, after two minutes of non-use your machine will time out and shut off. Saving your pump from overheating.
If you currently have a wash bay system make sure you inform your sales rep on what you have, what you like about it, what could improve and anything you wish it had/could do.