At Easy Kleen we pride ourselves on designing and manufacturing equipment that solves problems for our customers. You are not always in an ideal place to wash your equipment or do a cleaning job. There isn't always water or power near by, it could be in the middle of the woods and sometimes its 30 below out but that does not mean the job stops. We understand that saving time saves you money and this peace of equipment can wear multiple hats and become a pivotal part of your business.
DESIGNED WITH YOU IN MIND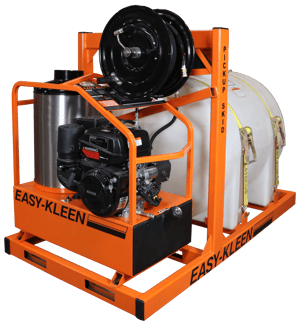 One of our most popular skid units is our Portable Pick Up Skid. This unit was designed and is manufactured in house, to fit perfectly in the box of a 6'6" pick up truck. Equipped with our commercial hot water gas driven oil fired unit*(4 GPM @ 3500 PSI), 225-gallon water tank, hose reel, and winterization system. Simply load this unit into the back of your pickup truck using either the forklift slots or lifting eye, fill with fuel and water and you're ready to clean anywhere. TOTALLY SELF CONTAINED CLEANING
INDUSTRY APPROVED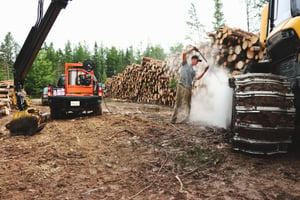 Our Pickup Skid unit is heavily used in the forest industry. Blaney Logging, a harvesting contractor in Nakawic, New Brunswick has owned their Easy Kleen for a year now and keeps a routine of washing their equipment every two weeks. "It's working out really good because we can fill the tank up, we have our water source, we have the pressure washer to help clean. And the cleaner the equipment it helps us with the machines running cooler, and its a very good safety factor for forest fires." - Joe Blaney Logging
PREVENTING MAINTENANCE COSTS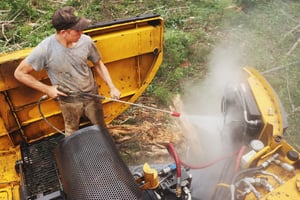 Forest machinery work for long hours in extreme heat and cold. These tough conditions paired with dusty air and logging debris increases the risk of a mechanical break down. Time down and the cost of repairs will be serving your business and equipment no favors. The best way to maximize your work day, diminish repairs and protect your valued equipment is to invest in an all in one cleaning system. Pollen, dust, leaves and other debris can affect the amount of airflow to your radiator and air coolers to your engine. Regularly cleaning these key components will allow adequate airflow and allow your operation to remain in a good working order.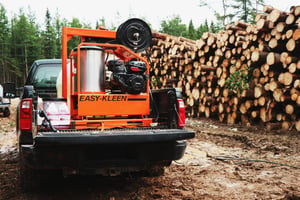 "Fits on the truck very nice, you don't even know its on there. You can wash two machines with one tank full. So far the reliability has been really good, we've been glad we bought it!" - Levi Blaney Logging
Check out the Video Testimonial here!
Levi & Joe Blaney, 3rd Generation Logging Company
QUICK KLEEN TIPS:
Over the years we've had customers who required a larger skid to hold a higher volume tank, more hose reels, and other customer requests. We never shy away from a problem, if you like this unit but need more we can design it to your needs. Check out our Fill & Play page on our website to see more.
Pair your skid with a powerful rotary nozzle to blast caked on mud out of tracks 2-3 times faster than a conventional nozzle.
This all in one system will save you time and money, the investment will be worth it!