In the leading months up to February, Easy Kleen prepares for our Trade Show Season. Specific units are built for the show that best matches its application. New marketing materials such as banners, flyers, and videos are designed specifically for each trade show. This is all done to showcase Easy Kleen the best we can to the attendees of the shows. The 2019 trades show season has almost come to an end. January-February 2019 saw 4 different trade shows for Easy Kleen all across the U.S.A.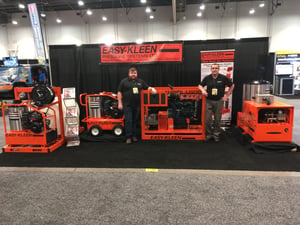 The busy season kicked off in Las Vegas Nevada with Josh and Brad attending the World of Concrete. "WOC was introduced to the commercial construction industry in Houston, Texasin 1975, and boasts more than 1,500 exhibiting companies and 58,000 registered industry professionals in more than 745,000 net square feet of exhibit space" - World of Concrete. For this show, we selected our units that would best suit those in the concrete/masonry industry. This included our Pickup Skid, Hot Water Commercial Gas with a rental frame option, our Buffalo Series, and our industrial cold water diesel - 4.5 GPM @ 15,000 PSI.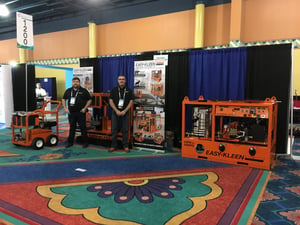 After a short break, we began our next three trade shows back to back! Next up was the Society for Protective Coatings (SSPC) in the middle of February. "SSPC is one of the only industry providers focused on technical education for coatings industry professionals. Our annual conference and training programs provide topics that include surface preparation, coatings and application, project management, research, testing and technology." - SSPC. Units at this show were brought here with the coatings and construction industries in mind. SSPC attendees who stopped into the Easy Kleen booth were introduced to out Industrial Cold Water Gas, Industrial Hot Water Diesel, and Industrial Cold Water Diesel unit.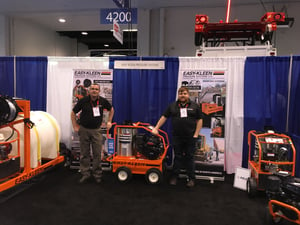 The team then flew to Anaheim California to attend the ARA Rental Show. "The ARA Show is the American Rental Association's annual convention and trade show for the equipment and event rental industry. It features construction/industrial equipment, general tool/light construction equipment and party/special event equipment."- The ARA Show. Units brought to this show revolved around the rental industry and of course had to included our rental frame option. Other machines at the show included our Commercial Cold Water Gas, Pickup Skid and our 3 GPM @ 2700 PSI Commercial Hot Water Gas unit.
And finally our biggest show of the season was next; the WWETT Show. "The WWETT Show is the world's largest annual trade show for wastewater and environmental service professionals. The event offers an unmatched educational program, a full slate of live demos, an array of networking opportunities, and an extensive expo floor where buyers and sellers come together to see and experience the latest product innovations and technology." - The WWETT Show. Our biggest order of units including Jetters, Install Ready Hot Water Heaters for Vac and Hydro Vac Trucks, Dry Steam Generators, Pickup skid, and Hot Water Commercial units. Check out our recap video to see some of our Oil Fired Heaters on customers Vac Trucks.
A WORD FROM THE SALES REPS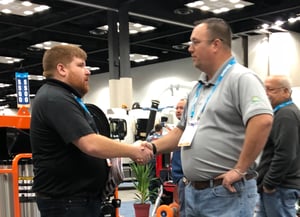 "It was great meeting/talking to new customer but also reconnecting with past customers we had met previous years at the show. Loved seeing our equipment on trucks around the show and happy customers reordering!" - Josh Reicker, Industrial Sales
QUICK KLEEN TIPS:
Consider attending a trade show Easy Kleen is at to meet our sales reps in person along with our equipment. Put a face to our brand!
Don't forget that we usually have show specials on select equipment. Show Specials are only available at the show so make sure you stop in at our booth!
Interested in seeing Easy Kleen at a trade show? Check out our website for listings of where we will be next!